TV47 takes a new twist as it re-launches to Swahili station
The competition for the airwaves is increasingly gaining momentum with investors launching new tablets to cut their niche in the competitive market which is currently dominated by Citizen Tv,NTV and KTN.
TV47 owned by Mount Kenya University founder Simon Gicharu  hasn't been left out as the station has re-launched  into a Swahili station.
The wait is finally over!!! The grand launch of @TV47KE is currently ongoing at @Laicoregency #machonasautiyetu pic.twitter.com/AiVIjLV168

— SPIN QUEEN 🎶 (@vshanksgalthadj) July 6, 2019
The station will be dedicated to telling untold stories in corporate sector and their involvement in youth and has tapped Eugene Anangwe from Rwanda Broadcasting Agency (RBA) and CNBC to lead its young vibrant team as acting MD while Godfrey Omanga who previously worked with k24 will lead the digital team.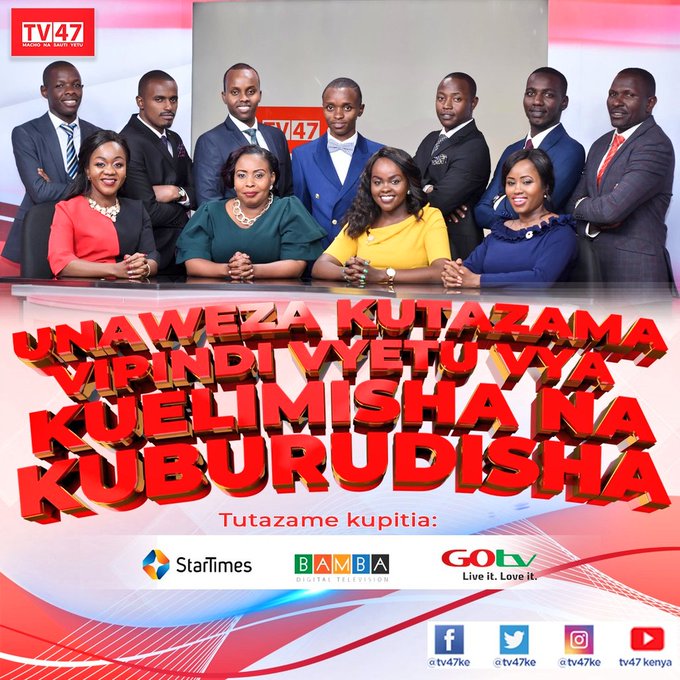 The station has been very active both at you Tube, GOtv channel 813 and channel 80 on both Bamba TV and StarTimes.
The able @TV47KE team is ready to make your swahili experience worth make sure you join them on this wonderful journey #MachoNaSautiYetu pic.twitter.com/0X6yZbyqlo

— Mary Cate (@catekatrina11) July 6, 2019
Speaking during the launch at Laico Regency,Eugene Anangwe the acting MD states that the station has put down proper structures to enable its thrive and make an impact in the society.
"TV47 is the home of untold stories that we will use to impact the society and keeping them posted to date news using the Swahili language,'he said.
On his part,Godfrey Amanga states that station mission is to inform,educate as well as educating noting that the Swahili language has been neglected by many players and the station will play a big role by restoring it back.
"Imagine there is no Swahili station?We are the only one in the market,what will happen to those who don't understand English?,"Amanga said.
503 total views, 4 views today
SMS '

Truth

' to

22285

for EXCLUSIVE & BREAKING NEWS.
Abubakar AbdullahiMount Kenya University founder Simon GicharuTV47Kenya